Ananya (Jane) Jain is the founder of FullCircle LLC, a global mental health technology startup. In the past she has been awarded by the Swiss Government for her work in quantum technologies, by the President of India for her patent, and by the Royal Family of the UK for her work in creating disruptive technology for mental health.
We are delighted that Ananya will be joining us as a speaker at the digital Make A Difference US Summit in association with Mind Share Partners on 15 October as part of a panel exploring how Millennial and Gen Z leaders are disrupting and evolving the way that people and organizations thing about mental health.
Make a Difference Digital Summit US in association with Mind Share Partners is North America's premier digital conference and exhibition addressing workplace culture, mental health and wellbeing.
In this interview Ananya gives a sneak peek of the perspective she'll be bringing to the agenda.
Can you explain the background of Full Circle, LLC, what the company does, how you and your co-founder came to set up the company and why? 
FullCircle is a tech startup that has strategically chosen big hairy problems to tackle. Our focus is mental healthcare: making asking for help easier. 
I think with more social media penetration in our lives, it's hard to hide who you really are. People who interact with my co-founder Ankit and I – online- and in real life, get to see two 20-somethings that like hugs, funny dancing, and lots of chocolate. That's the reason we've teamed up on this mission together. 
On a more serious note, we've both endured the same academic rigors of India, and the societal stigma surrounding mental health- he's a graduate of aerospace engineering from IIT Madras, and I'm an materials science engineer at Georgia Tech. We both have been incredibly lucky to survive life – hundreds of thousands of others in India die of suicide before they even sit for their college entrance exams. 
We also have been fairly open about our experience in our respective TED talks. Ankit and I have learnt the importance of having extreme ownership on the type of people we chose to be friends with, and in our choice of communities – hugs are free, but precious. FullCircle continues under our shared vision: it's time to innovate on a massive global scale, and make mental health cool. Reaching out for help should be free and within reach- everyone deserves to go around feeling like they're wrapped in the cocoon of a warm embrace 24*7. We aim to create that feeling in our communities, and at FullCircle.
You often say that in order to make an impact on the mental health of Gen X, we need to find ways to make mental health, 'cool'. Can you tell me more about what you mean by this, from your perspective as a 21-year old?
This is a great question, and one that should be answered by asking another question. What is the first image that pops up in your head when you think "mental health"? 
"Clinical, depressing blues, and probably a therapist in an old armchair"- is a common answer with everyone we've interviewed to date. 
It doesn't help when people try to make yoga and meditation the answer to a mental health pandemic. We need real solutions, but innovative ones. In a Snapchat, Instagram, and Twitter age –  no one wants to be confined to the solutions that we created a century ago.
The present generation needs an uplifting tone in mental healthcare, a flexible approach, and better communities – especially in a COVID era where social interactions are quite frankly, largely on social media. 
Join our growing network of employers
Receive Make A Difference News straight to your inbox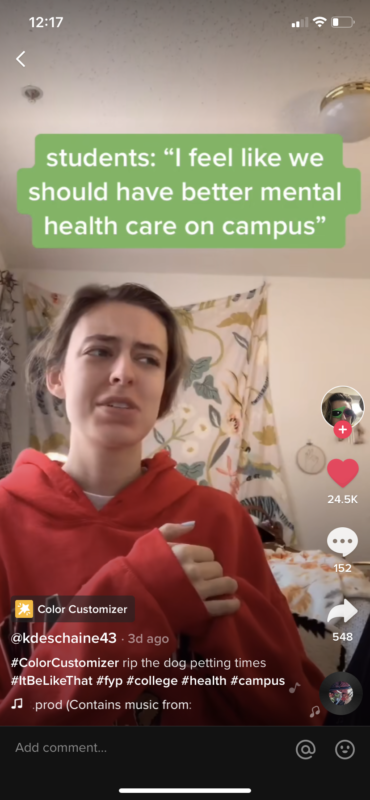 Tik Tok depictions of how students view mental health services at universities
What if there could be a way you could rant your worries to your phone and get haptic feedback that felt like a person holding your hand? What if we could design communities that could make asking for help the default – instead of the barrier – to feeling better? What if communities had cultural context to our problems, and what if help were available free – and 24*7? 
Those are the questions we've been working on at FullCircle. If you go to teamfullcircle.org, you'll see what we mean!
You were recently the recipient of the coveted Diana Award in honor of the late Princess of Wales, Diana. It's awarded to young people between 9-25 for social action or humanitarian work. What does receiving this award mean to you?
We were thrilled that there was such recognition of this pressing issue by the Royal family. To be given an award in memory of Princess Diana- someone who persevered through so much, is a phenomenal responsibility- and my team and I don't take it lightly.
What are your and your co-founder's ambitions for Full Circle, LLC going ahead? What are the next projects you'd like to launch?
We plan to move forward with empathy, and by listening to what people say about things they need now, and in the future. 
We recently launched to an exclusive audience, and are going to release to another set of people on October 23. In all honesty, we've had some really great ups and downs in the past few months. What we have gained is an incredible set of supporters to build out the next iterations of FullCircle's offerings. 
Our plan is to expand to more US states, 2 European nations, and India in the next 2 months while keeping our app free to our core base as long as possible. We understand that people value accessibility to mental health resources 24*7 on our platform. 
We are looking to take what we learn and expand to the hardware ecosystem- in all building a network as a complete mental health ecosystem. Updates coming soon! 
At the digital Make a Difference Summit US in association with Mind Share Partners you will learn how to create inclusive mental health and wellbeing plans with a preventative, personalized approach for any sized workforce, reinvent the 'new normal', and learn best practices from companies leading the way as the pandemic unfolds.
Register here using the code: MADUSA50 for 50% off your ticket. Or, if your company is bringing 10+ guests, sign up with our corporate pass for a flat one-price ticket ($1,000) with unlimited seats (our best deal for teams).