Delivering compelling total rewards that meet the needs of a diverse workforce requires a strong connection to your EVP and innovative technology.
Key Takeaways
As organisations focus on maximizing the value of total rewards without driving up costs, they must be laser focused on the elements that matter most to employees.
Establishing a connection between rewards and EVP is key to ensuring total rewards are aligned with employee needs.
The connection to EVP can be further strengthened through an innovative technology platform that provides a holistic picture of all the elements of rewards.
In a competitive labour market where organisations are also focused on optimising people spend, it's especially important for firms to get their total rewards programs right. There are two key steps to take when reviewing or revising an effective strategy.
First, organisations need to align total rewards with their employee value proposition (EVP) to ensure that what is offered matches what the company says it values and delivers for its people. We are seeing this borne out in practice, with nearly three-quarters of employers making adjustments to their total rewards (71%) and articulating a holistic EVP (74%), according to Aon's 2022 Global HR Pulse Survey.
Second, compensation and benefits — from salary and incentives to healthcare, retirement and voluntary benefits — need to be accessible through a digital platform that allows employers and employees alike to gain a full picture of what is being delivered and how total rewards are used.
Aligning Total Rewards With EVP
An EVP encompasses everything an employer does to attract talent. This ranges from compensation and benefits to career development and training. It also includes broader topics like environmental, social and governance (ESG) and diversity, equity and inclusion (DE&I) goals. For instance, a company heavily focused on having strong ESG credentials should ensure those are reflected in benefit decisions, including suppliers and investment choices. Additionally, DE&I goals heavily influence benefit design and are a driving factor behind the growing trends of flexibility and choice within benefits. Decisions must also be clearly communicated to employees so they can appreciate the intention behind them.
"Many of our clients are refining EVPs in the context of purpose, culture and values since the pandemic and the period of competitive hiring mixed with economic uncertainty that followed," explains Jon Bryant, a leader for enterprise and large clients in Aon's Health Solutions practice in the UK.
Start with the baseline. Determine what is most important to an organisation and what embodies culture and values, says Bryant. Most companies can't afford to be competitive with every element of total rewards. Trade-offs should be decided using an organisation's EVP while maintaining the flexibility to customise based on what current and prospective employees say they value.
Case Study: Total Rewards and Employee Sentiments 
We recently worked with a client experiencing high turnover, surveying their employees to better understand what elements of total rewards different parts of the workforce valued most. We reviewed the results with the client and made recommendations to customise elements of total rewards while still maintaining the framework of the firm's EVP. Key changes were made to rewards packages for junior and mid-level colleagues — the segment of their employee population that had the highest turnover. These included additional flexibility to use and trade paid time off and shifting the pay mix. The survey found that the perceived value junior-level employees were getting from their incentive pay was not as high as more senior-level employees. These changes didn't result in higher costs, but they delivered more value to the employees. What's more, changes were guided by the client's EVP, which values rewards that meet employee needs and provides flexibility and work/life balance.
"Today's workforce expects to be able to make some choices on their compensation and benefits to match their lifestyle and needs," says Mark Miles, a partner in Aon's Talent Solutions practice. This is supported by our HR pulse survey data, with 72 percent of employers saying they are or are actively considering introducing flexible benefits in response to current talent market challenges.
Use Technology to Further Connect Employees and EVPs
Once total rewards are aligned with a firm's EVP, employers need to have the right technology to deliver and communicate plans seamlessly. Platforms like Aon's The Benefits Solutions (TBS) provide a full picture view of what's being offered, including total rewards, benefits and wellbeing solutions. This is delivered in a customisable way — which fulfills the need for the design of total rewards to meet the individual needs of the workforce. The TBS platform, for example, allows employers to tailor communications and offer data and information on what uniquely matters to each employee.
"Online benefit experiences have expanded to offer more personalised total rewards, benefits and wellbeing experiences capable of scaling globally. These advancements have also made it possible for clients to connect employees more effectively with their EVP in a way that has never been possible before," says Andrew Krawczyk, a leader in global benefits technology in Aon's Health Solutions practice.
For employees, an effective digital platform makes total rewards digestible and reinforces messaging around the value of their compensation and benefits without being overwhelming. For employers, the technology can allow them to access data on employee health and benefits engagement and then deliver a strategy that tackles health risks and engages employees effectively. A digital platform can target unique challenges an organisation may be facing with its total rewards, including boosting benefit enrollment, promoting health campaigns or simply presenting total rewards statements in a more engaging way.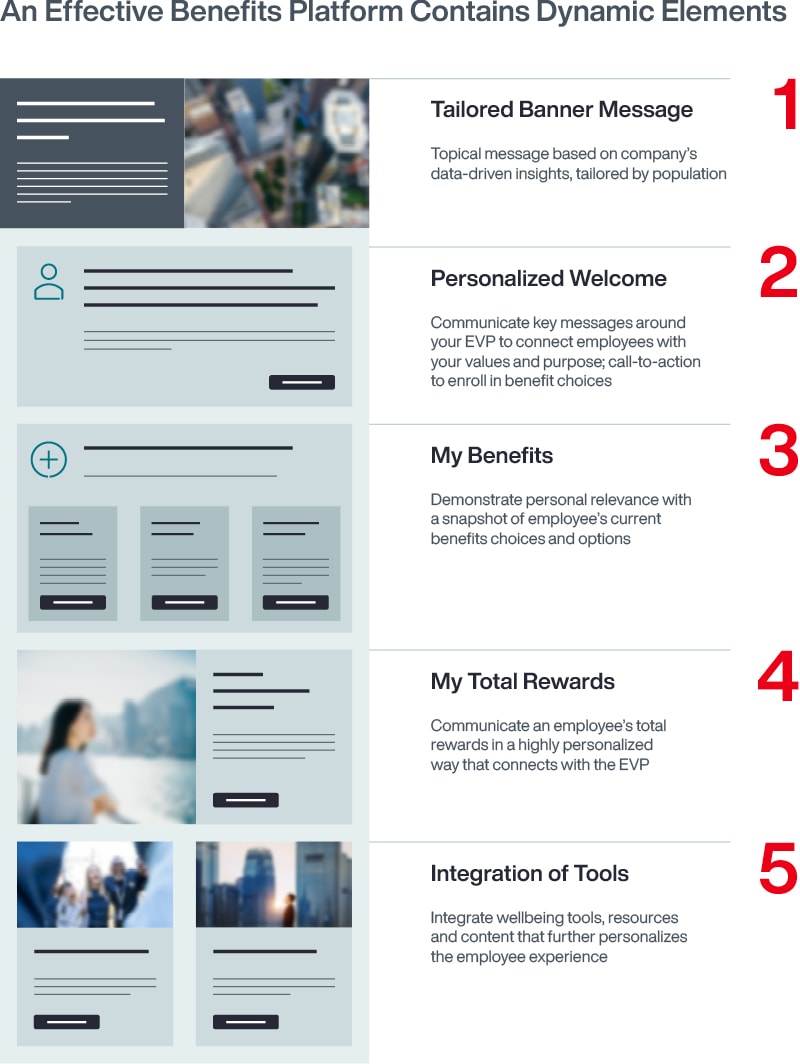 The Power of Insights Combined with Technology
While many organisations focus on having a platform to deliver compensation and benefits, they don't spend as much time ensuring rewards align with EVP and meet the needs of a diverse, multi-generational workforce. It's after that foundational work is established that innovative technology can deliver further value for businesses and their employees.
We support our clients with global, market-leading capabilities and access to a network of benefit experts to deliver a globally consistent, yet locally relevant, solution that improves the health, wellbeing and resilience of your workforce. To learn more, please visit Aon's The Benefits Solutions portal.
Join our growing network of employers
Receive Make A Difference News straight to your inbox
Seventy-four percent of employers are articulating a holistic EVP.
Source: Aon's 2022 Global HR Pulse Survey
Technology is the facilitator of innovative benefits. It needs to exist to deliver value, but it can't stand on its own without a strategy that connects to the foundation of what the company does to attract and retain talent.

About the author:

Shikha Gaur is Head of Digital Consumer Benefits in Asia-Pacific, Health Solutions, Aon